Head on over to the Tanger Outlets Facebook page and click on the Memorial Day Sale tab to get a code for a FREE coupon book!
Present the offer at Tanger Shopper Services for one FREE coupon book! Must be a Tanger Outlets facebook fan to redeem. Valid now through May 31, 2013.
Posted on 5/21/2013 8:46:39 AM CST by Jenny
Head over here to request a FREE sample of Metamucil. Available to the 1st 10,000.
This Metamucil "Meta Mondays" sample giveaway starts 5/20/2013 and ends 7/1/2013 (excluding Memorial Day on May 27

th

). No purchase necessary. Supplies are limited.
Limit one coupon per household. Offer includes 2 Metamucil sachets and a $2.00 Metamucil coupon good through 11/30/2014.
Please allow approximately 4-6 weeks for delivery.
Open only to legal residents of the 50 U.S. and D.C. who are 18 or older, with the exception of residents of AL and NE who must be 19 or older and residents of MS who must be 21 or older.
Void where prohibited, including AZ, CT, DC, MA, OH, and RI.
Posted on 5/20/2013 10:17:02 AM CST by Jenny
Request a FREE sample of Fixodent Free! This sample would make a great donation item!
*Valid for US residents only with the exception of the following states: AZ, CT, DC, IA, KS, MA, NY, ND, OH, RI, VT. Must be 18 years or older. Limit one Fixodent sample per household.
Thanks, Hunt 4 Freebies!
Posted on 5/18/2013 10:29:20 AM CST by Rose
Apply to host a FREE JeNu Beautiful You House Party! If selected as a host (there are 300 spots available), you will receive:
JeNu Active-Youth Skincare System
JeNu Active-Youth Lip Serums
JeNu Active-Youth Eye Treatment
NewBeauty magazine
Coupon offer cards
JeNu cosmetic bags
If you are new to House Party and would like to apply for a FREE party:
Sign up here with House Party, then come back here to apply for the JeNu Beautiful You House Party!
If chosen as a host, you'll get an email confirmation walking you through the steps of setting up your party site.

What is House Party?
House Party lets people who really love something host a special event featuring a fun, free, exclusive experience sponsored by the world's leading brands.
Each event is sponsored by a leading brand and focuses on something cool - like a new product, hit TV show, or great cause, that the sponsor wants its best fans to experience firsthand and share with their friends. House Party lets you share the stuff you like with the people you like, through a fantastic, free party experience. What's the catch? There is none: Our partners understand that if they share something good with the right people in a fun way, we'll all help spread the word.
Posted on 5/17/2013 9:05:03 PM CST by Jenny
Today's FREE Kindle books for 5/17/13
A big thanks to my blogging bud Jessica from Living Chic on the Cheap for compiling this list! Be sure to come back every day because there will be a new list posted!
Fiction
Mystery, Suspense & Action
The Secret Desires of a Soccer Mom
Romance
Emerald Embrace
The Marker
Paranormal, Fantasy & Science Fiction
The Greenwich Memoirs
A Summoner's Tale - The Vampire's Confessor
The Spirit Clearing
Christian, Religious & Historical
A Little Piece for Mother
Contemporary
The Reverse Commute
Sky of Red Poppies
Pearl
Classics
Twelfth Night
Children's'
The Princess ABC Picture Book
Butterfly Picture Book For Kids
Freddie The Fire Engine
Goldilocks and the Three Bears
Preteens
The Cape Beanery Chronicles
Treasure Quest: A Short Story
Young Adult
Girl Perfect
Finding Eden
Non-Fiction
Trophy Child: Saving Parents from Performance, Preparing Children for Something Greater Than Themselves
Live Simple: 31 Tips To Declutter, Simplify, And Organize Your Life
Real Clever Solutions & Ideas: Tips and Tricks to Save You Time and Money
Boardroom to Baby: Lifting the lid on what every career girl needs to know when she's expecting.
Taste and See: An invitation to read the Bible
Cookbooks
Muffin Tin Cuisine
Paleo Soups and Stews. 50 Delicious Gluten Free Natural Food Recipes
*Please note: Amazon prices do change quickly and without notice. Please understand that if you are visiting this post at a later time (note time stamp below), the price may not be the same. Please confirm the pricing in your cart before you submit your order.
Posted on 5/17/2013 11:36:01 AM CST by Rose
Sweet treat! Get a FREE tall iced beverage when you buy Iced VIA at participating Starbucks locations!

Valid at participating US stores only through 5/19.
Posted on 5/17/2013 11:07:56 AM CST by Jenny
If you missed the FREE MiO offer from last month that was available exclusively for Twitter users, now is your chance if you have a Facebook account!
Go here to request a FREE sample of MiO Fit! Your sample will arrive in 4 - 6 weeks and is limited to 1 per household.
Posted on 5/17/2013 8:42:26 AM CST by Rose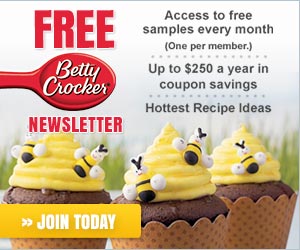 Be sure to sign up for the Betty Crocker email newsletter so you don't miss out on their monthly FREE sample! You will also receive HIGH VALUE coupons, exclusive Insider-only offers, and recipes!
Go here to sign up!
Posted on 5/16/2013 5:10:41 PM CST by Rose
Go here to request your choice of six different Kotex sample packs! Each sample pack includes up to 4 products and a coupon!
Thanks, Sample Stuff!
Posted on 5/16/2013 5:00:26 PM CST by Rose

Just wanted to remind you all of this offer! And check out what reader Lori wrote:

Rose, I just wanted to say Thank You for this post. I recently went to the eye Dr. and got a pair of new glasses. I needed an extra pair, but couldn't afford to have a spare. I ordered a pair from Coastal (18.00!)and received them today. I like them better than the ones from the eye Doctor (that I paid $$$ for!). Good thing I asked for my prescription :) Thank You again

Get a FREE pair of prescription eye glasses with standard lenses and frames when you use promo code FIRSTPAIRFREE at checkout!
I took advantage of this offer when it was first available and the glasses I received have ended up being the only ones I wear! They are much better than my purchases from the eye doctor that I paid well over $300 for!
Try them on at home, if they don't fit, return shipping is free! Go here to place your order!
If you prefer the lighter weight lenses you will need to pay extra. Even though there may still be a charge for the upgrades, this is still an awesome deal! My glasses only cost me $12 for shipping and I'm still super happy with them!
Posted on 5/16/2013 4:38:10 PM CST by Rose